---
Published on November 30, 2021
Check and correct spelling (spell checker)
Did you know that you can check spelling to find and correct misspelled words in Adobe Photoshop? I'll show you how!
If you'd rather watch the video tutorial of this process, click here or scroll down to the end of this page.
I created a couple of text layers and I deliberately made some spelling mistakes. I made some short sentences, but you can also do a spell check if you have a longer text.

Step 1: Select language
The first thing you need to do, is select the language for the spell check. First select 'window' in the top menu bar and make sure 'properties' is selected.
Select your text layer and open the properties panel. If you have more than one text layer, select them all. Select 'character'. If you can't find the language, click on the 3 dots.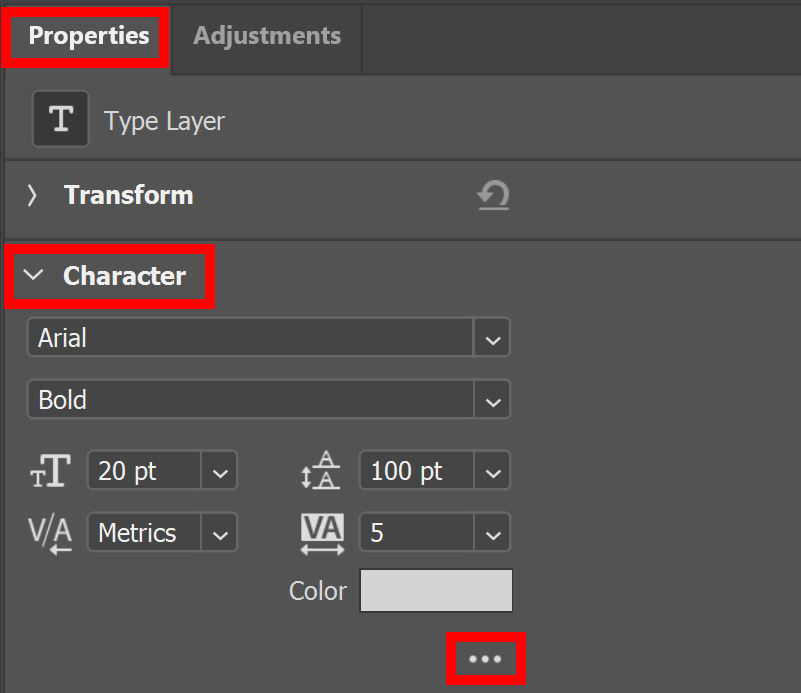 Select the language. My text is in English, so I select that.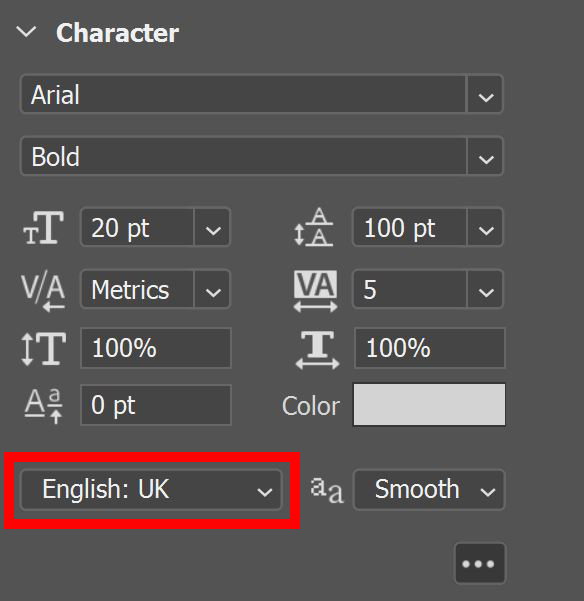 Step 2: Check spelling
Navigate to 'Edit > Check Spelling'. As you can see in the image below, I misspelled the word 'couch'. Photoshop gives you multiple suggestions, select the right one. Click 'Change' to apply the adjustment or click 'Ignore' if you don't want to change it.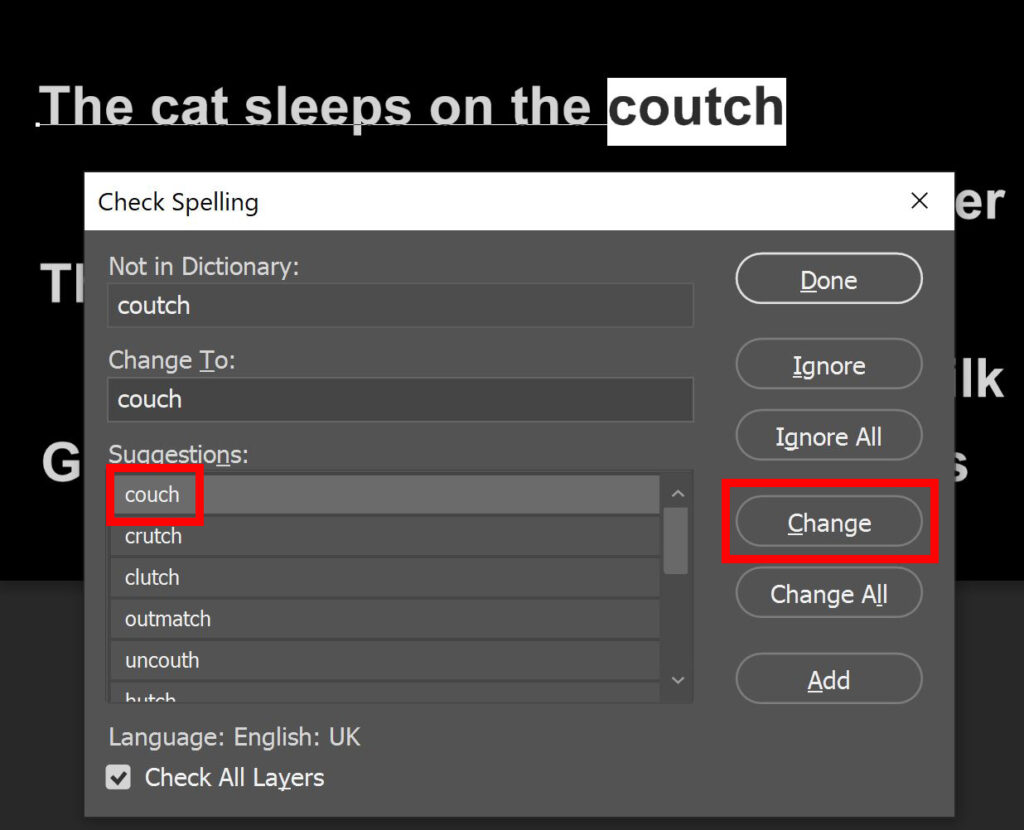 When you select 'Check all layers', Photoshop will check the rest of the text layers too. If there are more spelling mistakes, it will show the next one.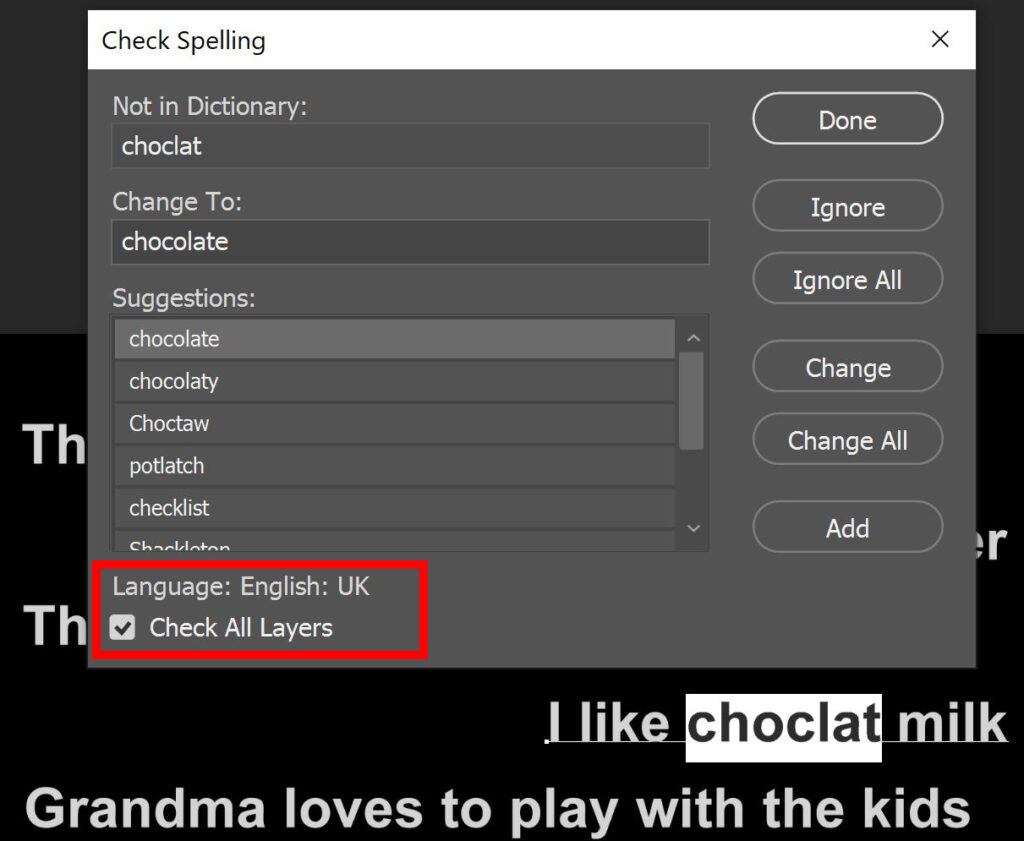 If Photoshop can't find any more spelling mistakes, it says the spell check is complete.
Note: If you used a word that is spelled correctly, but you didn't use it in the correct way, Photoshop might not notice that. For example: I wrote 'the man cooks diner', which should be 'the man cooks dinner'. Both words are spelled correctly, but they have a different meaning. Because the word diner is spelled correctly, it won't show up in the spell check. So don't just rely on this spell check, also read everything carefully yourself!

And that's how you check spelling in Adobe Photoshop! Want to learn more about Adobe Photoshop? Check out my other blogs or take a look at my YouTube channel. You can find the video tutorial of this process below!
---
Photoshop
Basics
Photo editing
Creative editing
Camera Raw
Neural filters
Text effects
How to check and correct spelling in Photoshop